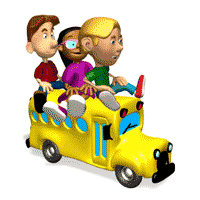 With over 2,000 songs, BusSongs.com quite possibly has the largest collection of kids' songs and nursery rhymes on the web.
Together with song lyrics, they have ?also feature videos and music for you to sing and dance along to.
Use the big search box to find a specific song, browse through the categories, or if you need some inspiration, hit one of the top songs.?You can also find them by genre or by alphabetical order.
You will be welcome to this little musical corner of the Internet.
PAY ATTENTION TO THE MEDIA THEY HAVE. There are some Icons that you will see just next to the title. The different icons will indicate you if the song has video ,audio or only lyrics. But many of the songs have videos for double the fun. Enjoy!
They are divided in 4 categories: